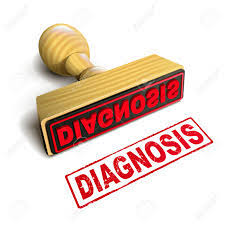 When a dermatologist examines a patient who will eventually be diagnosed with PRP, they may see signs and symptoms that suggest a more common skin disorder. When that dermatologist combines medical training, clinical observations and biopsies and makes a diagnosis of psoriasis or atopic dermatitis, it is called a differential diagnosis — not a mistake. A differential diagnosis is how the medical community defines a diagnosis other than the one that is finally established.
The 2014 PRP Worldwide Census identified onset symptoms reported by 477 PRP patients. The range of symptoms — and where they appear — underscores how each case of PRP is as unique as a snowflake. For example:
Words used by PRP patients to describe the onset symptoms
✽  A total of 294 PRP patients used the term rash (201), spot (97) or blemish (19)
✽  A total of 70 used the term itchy, and 57 used patches, shedding, dandruff, bumps, sunburn and peeling.
Words used by PRP patients to describe location of symptoms
✽  Head (168) which includes: scalp, face, forehead, head, eyes, ears and nose
✽  Upper torso (86) which includes chest, back (36), shoulder and torso
✽  Upper extremities (66): hands, arms and fingers
✽  Lower extremities (38): feet and legs
Looking for more symptoms…

Sometimes a PRP patient or caregiver want to compare their version of PRP with others who share this über-rare skin disorder. A search of the internet offers a glimpse of the range of signs and symptoms that are consistent with pityriasis rubra pilaris and a wide range of other possible diagnoses.
Here is a sampling of the signs and symptoms that apply to PRP.
ONSET
❐     Onset of symptoms vary greatly between affected individuals
❐     Onset can be gradual or more rapid
❐     Redness and scaling of the face and scalp are often seen first, followed by redness and thickening of the palms and soles.
❐     Overall, the elbows, knees, backs of the hands and feet, and ankles are most commonly affected..
❐     Lesions may expand and coalesce and eventually cover the entire body.
PATCHES
❐     Color: pink, red or red-orange
❐     Itching
❐     Elbows, knees, hands and/or ankles
❐     Often there is a solitary lesion but within a few weeks multiple patches appear and they join together to form groups of reddish-orange lesions. Over a few weeks these spread downwards and may cover most of the body (erythroderma).
SKIN LESIONS
❐     skin lesions described as "sharply pointed, horn-like, brownish-red to rosy yellow- colored"
PAPULES
Note: a small, raised, solid pimple or swelling, often forming part of a rash on the skin and typically inflamed but not producing pus.
❐     Occur on the back of the wrists, the outside of the forearms, underarm folds, elbows, knees, backs of the hands, and/or fingers?
❐     Grow and connect together they produce dry, scaly, rough, red plaques over large areas of the skin.
RASH
❐     Red scaly rash on head, neck and upper trunk as a red scaly rash.
NAILS
❐     Gray, brittle nails
❐     Thickened and discolored at the free nail edge and may show linear black streaks (splinter hemorrhages).
EXCESSIVE OILINESS OF THE GLANDS
❐     On the scalp (seborrhea)
❐     On face
IMPAIRED VISION
❐     Edges of the eyelids are turned outward (ectropion).
PALMS OF HANDS & SOLES OF FEET
❐     Skin has become red and thickened.
❐     Palms and soles become thickened and yellow colored in PRP.
❐     Cracks may develop which can be painful and make walking and using the hands difficult
HAIR
❐     Hair may thin considerably.
SHIVERING
❐     Shivering, heat and fluid loss
ISLANDS OF SPARING
❐     Small islands of normal skin (islands of sparing) are seen within the areas of the scaly skin.
SYMPTOM Sources used in this post:
www.healthline.com/health/pityriasis-rubra-pilaris
https://rarediseases.org/rare-diseases/pityriasis-rubra-pilaris/
http://www.healthline.com/health/pityriasis-rubra-pilaris#causes3
http://www.dermnetnz.org/topics/pityriasis-rubra-pilaris/
https://rarediseases.info.nih.gov/diseases/7401/pityriasis-rubra-pilaris
http://www.bad.org.uk/shared/get-file.ashx?id=116&itemtype=document
https://medlineplus.gov/ency/article/001471.htm
---