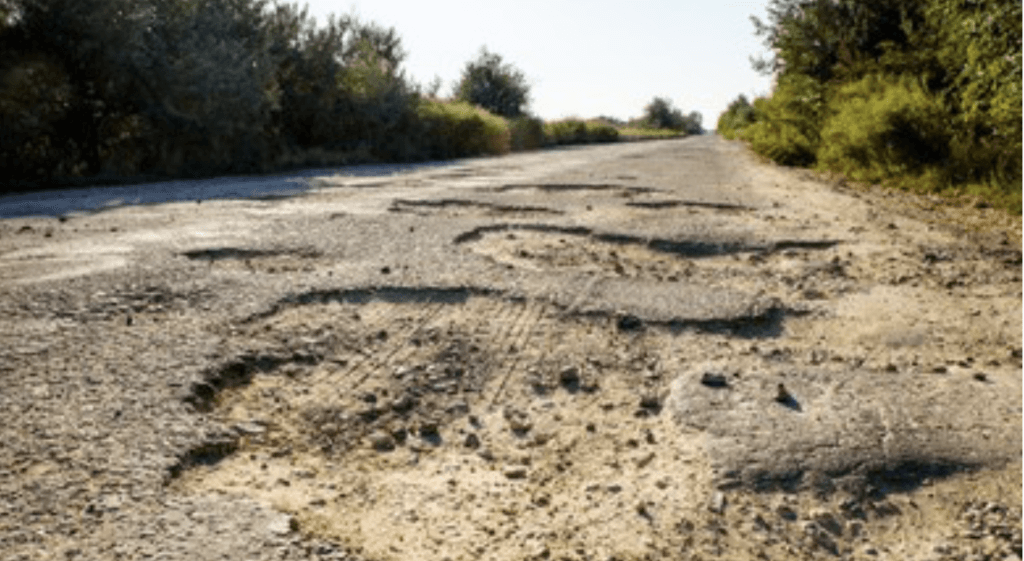 PRP and scalp-related issues
Written by Bill McCue, Editor
INTRODUCTION
As a PRP patient advocate I have come to appreciate the myriad of challenges that we face after the onset and diagnosis of pityriasis rubra pilaris. One of the most universal indignities is the assault on the scalp that may range from fine scaling that looks like dandruff to crusted plaques that cover the entire scalp.
All too often other skin disorders, such as seborrheic dermatitis and plaque psoriasis can mimic the PRP scalp and delay a proper diagnosis. 
Whether a scaly patch or a raised area of skin tissue, or a border that is distinct or indistinct, and regardless of a variety of shapes, colors, and sizes, the skin lesions and abnormalities on the scalp present a serious challenge to every PRP patient. 
WHAT DO WE NEED TO KNOW ABOUT THE SCALP?
With a few notable exceptions, we are neither dermatologists nor healthcare professionals. Let's all agree that the onset of PRP found us ill-informed and ill-prepared for the journey we were about to undertake.
As a PRP patient or caregiver, what do we really need to know about our scalp? The answer: "Just enough to demonstrate to our dermatologist and other healthcare professionals that we intend to be involved in our treatment." 
A REALITY CHECK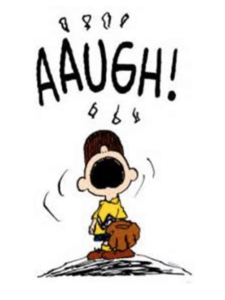 When dermatologists unleash a fuselage of medical jargon during a clinic visit, we hear the same "Wah. Wah. Wah" that Charlie Brown and the Peanuts Gang hear when adults talk about anything. 
One way to be our own patient advocate is to know more than the dermatologist thinks we know. We must find ways to demonstrate our personal PRP-savviness by doing our homework BEFORE the clinic visit.
For example, when it comes to YOUR scalp, YOU are eminently qualified to report on everything from mild scaling to crusting on the entire scalp. Accurately convey your assessment of severity and the success and/or failure of other remedies. But first — demonstrate that you have done your homework. Let's begin.
BASIC SCALP ANATOMY
Let's start with the basic anatomy of the scalp. The skin on your scalp is one of the thickest sections of skin on your body. It is thickest at the back of your head and gradually becomes thinner at the front.
The scalp has difficulty maintaining and replenishing hydration compared to skin found in other places.  This vulnerability of the scalp invites all sorts of skin problems compared to other areas of the body.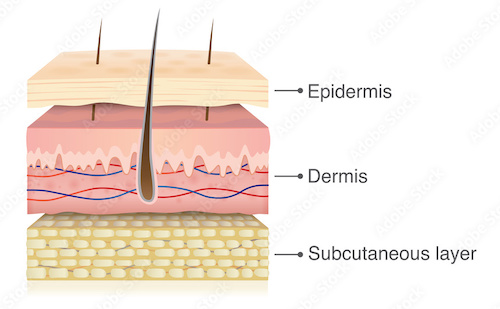 YOUR DERMATOLOGIST SHOULD KNOW that your scalp is made of three layers that cover the top of your skull.
Epidermis
The outermost layer of skin protects your body from harm, keeps your body hydrated, and produces new skin cells. It is the thinnest layer of skin, but responsible for protecting you from the outside world
Dermis
Comprised of hair follicles, nerve endings, sweat glands, blood vessels and glands that produce oil. It is the thickest layer of the skin, and is made up of fibrous and elastic tissue to provide strength and flexibility to the skin.
Subcutaneous or Hypodermis
A dense layer of  fat and fibrous tissue that lies beneath the skin to insulate the body from cold, helps absorb shock and provides structural support for the skin.
TREATING THE SCALP
As an informed and involved patient, you should know what treatment options your dermatologist favors and WHY. 
Coat Tar Shampoos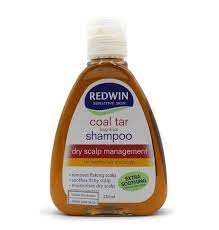 Coal tar has been used to treat psoriasis for more than 100 years and is available over the counter (OTC) as shampoos, creams, gels, ointments, foams and soaps. Shampoos with coal tar help with scaling, hardening and thickening of the skin on your scalp by slowing down the growth of skin cells. They also can ease itching and make your scalp look better overall.
Negatives — The main drawbacks of coal tar shampoo include (a) the staining of clothing and skin, (b) the darkening of light-colored hair and (c) an unpleasant odor. A non-medicated conditioner after shampooing can help against the odor of coal tar shampoo.
How to use — Apply a coal tar shampoo, massage it into the scalp and leave on five to 10 minutes before rinsing out.
Sensitivity to light — Be aware that shampoo with coal tar might make your scalp more sensitive to the sun. Coal tar can stay on your skin for 24 hours or longer, and your chances of sun damage go up during that time. Protect your head with a hat or stay in the shade if you're outside.
Salicylic Acid Shampoos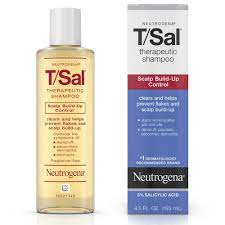 Salicylic (proniounced (sah-LEE-sil-lick) acid is a peeling agent available in OTC and prescription shampoos and soaps. It can soften scales, making them easier to remove. Salicylic acid works well for many skin disorders because it helps lift, soften and shed dead skin.
How to use —To use one of these shampoos, wet your hair and work the shampoo into a lather. Rinse and repeat. Use it at least twice a week or follow your doctor's advice. Try not to get it in your mouth, eyes, or nose, and don't use it if you have a rash or a cut.
Negatives — Shampoos with salicylic acid can make your scalp dry, and that can lead to more flaking. They also can irritate your skin, make you nauseated, or cause other problems if you use them too long and over too big of an area of your head. Talk to your doctor
Shampoo with steroids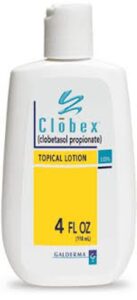 A clobetasol propionate shampoo containing steroids, such as CLOBEX® is a topics (skin use only) used to help with swelling and redness, reqires a prescription and is usually used for only a few weeks. 
Sage advice we hear: Don't wet your hair before using this shampoo. Put it on your scalp when your hair is dry and leave it for 15 minutes. Then wet your hair, lather in the shampoo, and rinse it out. Be sure to keep it off your face and away from your ears — your skin is thinner in those areas. It's also important to wash your hands well afterward.
ITCH RELIEF FOR THE SCALP
ALWAYS consult your dermatologist. Other suggestions include the use of a conditioner after shampooing, OTC tar shampoos, and OTC antihistamine pills. Even wet towels, cold packs, or cold water on itchy spots can provide relief.
---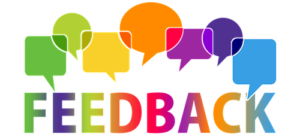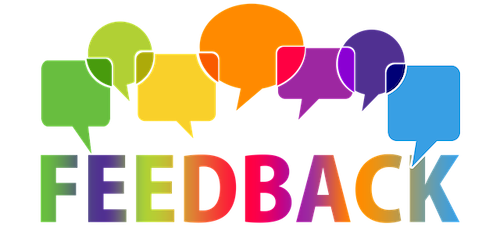 ---
The following discussion (edited) regarding recommendations for an itchy scalp was posted to members of the PRP Facebook Support Group. Remember: What works for one doesn't work for all, but here are some treatments that worked for one or more.
Barbara Y — Florida, USA
I had the crusty flaking plus lesions and a small amount of bleeding. I lost about 25 percent of my hair, which I prefer to believe I have mostly recovered since my PRP let up from the acute stage six months ago. My scalp was the last skin to clear for me. Here is what I did:
poured and sprayed Listerine to prevent infection

shampooed with TGel (horrible, tar-like, I don't miss it) and used conditioner only on the ends

covered my scalp with baby oil at night to loosen the scales 

used a fine tooth comb to gently pull away dead skin.
My wonderful hair stylist did not abandon me and continued to dye my hair. I swear dyeing had no effect other than to keep my spirits up, because there is no way I want to see my real hair color at age 61, especially while I am also enduring PRP.
Jan T — New Jersey, USA
For me, the prescription Clobetasol worked amazingly for the itch. Just did nothing for the dandruff. Now my scalp is about the only place that doesn't really itch. And my scalp had been intensely itchy. Ketoconazole is an anti-fungal, so it probably would work for some types of dandruff. Clobetasol is in the corticosteroid category. Really, what is PRP doing to us? I have absolutely no natural oils or moisture in my scalp or hair, and my head is not sweating. It actually never "feels" dirty.
Bill M — Texas, USA
I was lucky that Ketoconazale 2% shampoo worked. Applied to scalp and left it there for five minutes. Then rinsed. Used for relief from minor crusting. The itch relief was just an extra. Scalp cleared. Was it the shampoo? Acitretin? Passage of time? Perhaps all three or none of the above. Remember, what works for one doesn't work for all.
Linda B — England, UK
Ketoconazole 2% shampoo can be purchased over the counter in the UK. The brand name is Nizoral, but Boots produce their own version of this product which is slightly cheaper. Capasal Therapeutic Shampoo is also available over the counter.
Teresa S — Iowa, USA
Utrogena T gel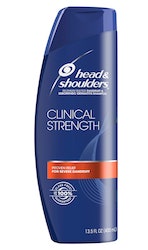 Diane H — Michigan, USA
I tried the medicated shampoos prescribed by the dermatologist, but they didn't work. So, I went to Head and Shoulders Clinical Strength and it has made a big difference. The other shampoos I tried changed the texture of my hair, this didn't.
Anita R — Mississippi, USA
Head and Shoulders Max strength is not helping with the build up of dandruff. (Editor's Note: What works for one doesn't work for all)
Mary H — California, USA
Nutrogena T-sal shampoo.
Carol T — England, UK
I was prescribed Sebco Coconut Oil Compound. Ointment. (June 2019) by my dermatologist and am still using it. I had my hair shaved off for the second time to better apply the treatment and it does bring relief. Other products: Capasal Therapeutic Shampoo
Judy B — Victoria, Australia
I tried everything. Clobetesol worked best, but after five years in remission my scalp is the only thing that hasn't cleared. Just used to it now. Hang in there – it does get better.
Bill M  — Texas, USA
Here's a link to the Nutrogena website. THIS IN NOT A PRODUCT ENDORSEMENT.
"According to their website. 'Neutrogena® T/Gel® therapeutic hair care is a line of dermatologist-recommended shampoos formulated to treat flaky, itchy scalp, caused by conditions ranging from mild danduff to seborrheic dermatitis. Gentle and pleasant to use, T/Gel® products leave hair shiny and manageable and relieve itching for hours after rinsing. The complete T/Gel® line offers different active ingredients and benefits to help get rid of all kinds of scalp symptoms, and provide dry scalp treatment.'" 
---
Murray R, British Columbia, Canada
Here are some facts about dandruff from the Canadian Dermatology Association:
An estimated 50 per cent of North Americans have dandruff.
Dandruff is most common in younger people and usually resolves by middle age, although it can persist later in life.
More men have dandruff than women, possibly due to hormones that produce more active oil glands and an oilier scalp.
Medical conditions and certain medications can trigger or worsen dandruff and its variant seborrheic dermatitis.
---
MORE FEEDBACK
Brenda M — England, UK
May 1, 2017 — "I have been reminded of advice given to me at the beginning of my PRP journey and thought I'd share it. The dermatology nurses advised to gently massage the cream or emollient into my scalp until there is none visible. Massage in the direction of hair growth to minimize blocking the hair follicles. Better to moisturize more frequently than overload the skin with a one-time application. She also said the skin still needs to breath."
Annette B — Arkansas, USA
June 25, 2019 — "My scalp has long been my biggest problem area. I get these big knots and they become infected. I have shaved bald several times as my hair seems to irritate it and also makes topical treatments near impossible. I have been able to keep my scalp tolerable for about the last four years using an oral antibiotic called Minocycline for bad flares. About three months ago that stopped working and I thought shaving was going to be my only option for some relief. Out of desperation I parted and braided my hair, exposing the worst problem area and I covered it with Mupirocin Ointment. I'm pretty sure this was prescribed for a wound I had on my foot previously, unrelated to PRP. I did this for 5 days and I did not wash my hair during those 5 days, I wore hats and scarves to cover my unkept hair. After that 5 days the wounds are gone and my problem area is better than it has been in 6 years. When I touch my scalp today, I just want to cry, I can hardly believe it's really gone. I will be 50 next year and have a big vacation planned to celebrate. I'm so happy, that I may get to keep my hair."
Ellen H — Georgia, USA
I used baby oil as well, I would put it in a smaller container like a eye dropper so I could get It down to my scalp better and just massaged it in but I would do mine on the weekend so I would Just leave it in a couple of days. USE Light bulb graphic.
Vivienne P — England, UK
My scalp has been so horrible and it gets me down. I used different things at different stages. Lost lots of hair on acetretin and had what was left cut really short. Then I used diprosalic scalp application and Capisal shampoo. I tried Etrivex shampoo and Dermex shampoo, both on prescription, which irritated me but might work for someone else. Now I use T gel and sometimes Capisal. Occasionally douse scalp in oil overnight
Gail Carroll — Virginia, USA
Coconut oil at night and cover with a shower cap. Shampoo out in the morning.  Dom this for about a week. I know it sounds messy, but it's no more messy than ointments head-to-toe When I told my dermatologist that I hate feeling greasy all the time, he said, "I know. But you have to protect that new skin". Made sense to me.
Shelia S — Tennessee, USA
Derma-E, Scalp Relief Shampoo works for me.
Anna V — New York, USA
My dermatologist said not to use coconut oil because it feeds the scalp. In other words it's fungus that makes dandruff and the coconut oil feeds it so she said to use castor oil instead. Editor's Note: Need to verify dermatologists warning.
Rose F — Arizona, USA
December 14, 2018 — "Itchy scalp update:
Applied organic coconut oil to my itchy and scaly scalp. Then I put a shower cap on for about an hour. It was a lovely look. Lol. Then I washed and conditioned with Free and Clear. It's been two days that my scalp has not itched. I am still shedding but at least, I don't feel the need to 'claw' my scalp. It's great to find something that works. I also put the oil in various places on my body and had some temporary relief. Will do this a few times a week. Although I cried when I had my long hair cut off, having shorter hair now sure makes the process much easier to deal with."
James Wilson — Michigan, USA
January 29, 2021 — "This was amazing. Had to get my hair cut so went to a lady who'd never cut it before. When I sat in the chair she looked at my scalp (it's all full of bumps and all the crude) and says you need to put Listerine on your scalp. She said she had a customer who looked like me and three weeks later was clear. Seemed a little far out but I tried it. After 5 days it's pretty clear No itching and bumps are gone. Don't know if it will work for you but has been great with me."
Stephanie R — Virginia, USA
Jojoba oil helped my daughter.
Lorna R — Oregon, USA
January 29, 2021 — CAUTION — "Do not get Listerine in your eyes. Very painful, and could cause burns."
Diana H — Minnesota, USA
May 29, 2017 — "I tried the medicated shampoos prescribed by the dermatologist, but they didn't work. So, I went to Head and Shoulders Clinical strength and it has made a big difference. The other shampoos I tried changed the texture of my hair, this didn't."
Charles R — Virginia, USA
Scalpicin
Joe M — California, USA
May 29, 2017 — "I use organic refined oil from COSTCO (because it's cheaper). It comes in a huge tub. My wife does two cups of coconut oil, 1/4 cup of olive oil, and about 15 to 20 drops of essential oil's each: frankincense, lavender, Teatree oil. I generously put it on my scalp at night and it has helped my scalp and body with itching. Occasionally I still get itching on my scalp but it's definitely better. I read somewhere online that coconut oil has natural SPF to which is cool. It's a low number but stll cool, not sure about the essential oil's though."
Karen B — New York, USA
May 29, 2017 — "Capasal medicated shampoo."
Correen P — Ontario, Canada
May 29, 2017 — "Sebacur shampoo."
Steve B — England, UK
May 29, 2017 — Only thing that has had any beneficial effect on my scalp is Dovobet. In the evening rub it in and in the morning, wash it out.  I
t's a combination of a steroid (betamethazone) and Calcioptriol (vitamin D analogue) in an oily base. It helps to reduce inflammation, itching and flaking and the oil base helps to loosen dead skin. I had to ask my dermatologist to prescribe it after finding a combination of steroid ointment and calcipotriol ointment helped my skin (the only topical treatment that had any noticeable effect).
Abbas V — England, UK
May 29, 2017 — Dovobet contains a flurinated steroid, betamethasone, which is quite powerful. In most countries it would be a prescription. Used as a gel it is safe on the scalp, and effective in scaly conditions such as psoriasis and PRP. Elsewhere on the body betamethasone has little part to play in PRP, although I used it extensively, as I dare say have many of us.
Alan B — Florida, USA
May 29, 2017 — Clobetasol Propionate Foam, 0.0
5% 

It burns for a second then really helps with the itch. Ask your Doc for it.
Erica B — New Jersey, USA
Zinc pyrithione shampoo. I use nuskin epoch. Also Nizoral has ketoconazale. I alternate. Leave on for a few minutes before rinsing. You could also try salicylic acid or ciclopirox olamine.
Susan R — Florida, USA
My scalp was pitted and orange in color, my hair came out in clumps. My dermatologist gave me Clobetasol in liquid form. I used it every night for five months, scalp and hair are back to normal.
Pam A — England, UK
Euricin scalp calming lotion or coconut oil. Leave in then scrape scalp with nit comb. Euricin shampoo helps too
Charlotte J — Texas, USA
I put aloe vera gel on my scalp during the day and coconut oil at night. April 16, 2019
Steven O — Manchester, England
Head & Shoulders, Deep Hydration, 0% phosphates, paraffins and colurants
Mike M — Missouri, USA
I have been using hypoallergenic baby oil on my scalp. Seems to help with the constant flaking.
Rosemary R — Bendigo, Victoria, Australia
For the past few days I have been lathering coconut oil onto my scalp in the morning then washing out later in the shower. I see success on the horizon.
Dirk H — Neckarbischofsheim, Germany
Baby oil with Aloe Vera (Penaten intensiv oil)
Oliver C — England, UK
I am using Oilatum Petroleum based Shower Gel. I feel so 'soothed' afterwards and it lasts all day.
Carolyn F — Texas, USA
Buy hair products specifically for scalp treatment with ZINC. Treat it like 'cradle cap' (in babies)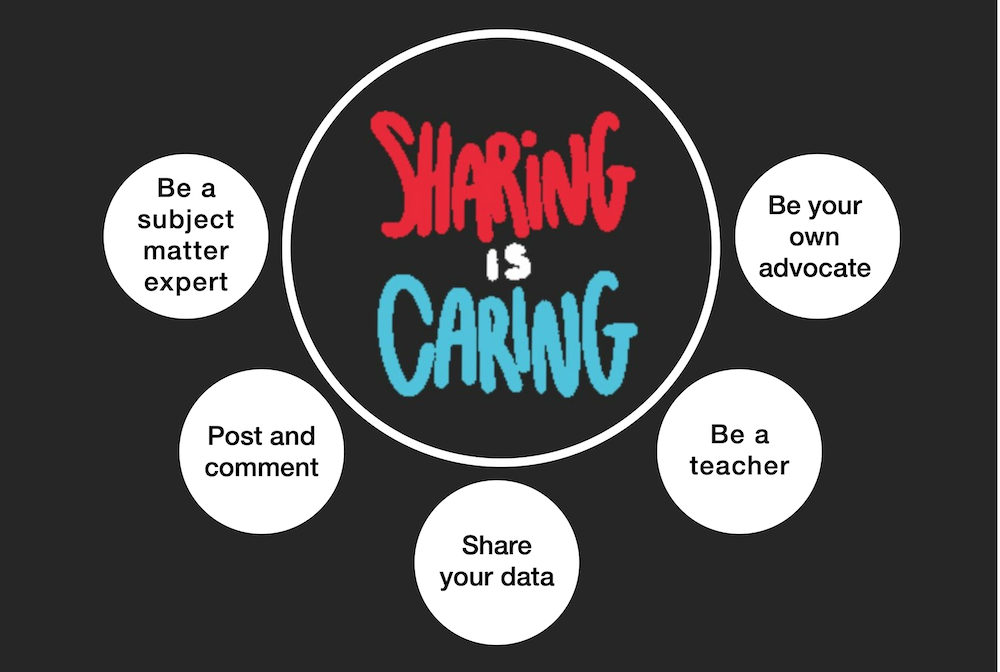 The PRP Survival Guide is a repository of experiences and insights shared by PRP patients and their caregivers. Collectively, the PRP global community possesses a wealth of practical knowledge about pityriasis rubra pilaris. We need to harvest that knowledge for those in need of enlightenment.
Please share what you have learned as a patient or caregiver. Share what you have been told by your dermatologist? Share articles  you feel might be worth reading or websites worth visiting. When you have information to share about PRP and scalp-related, please send to editor@prpSurvivalGuide.org.