Issues related to socialization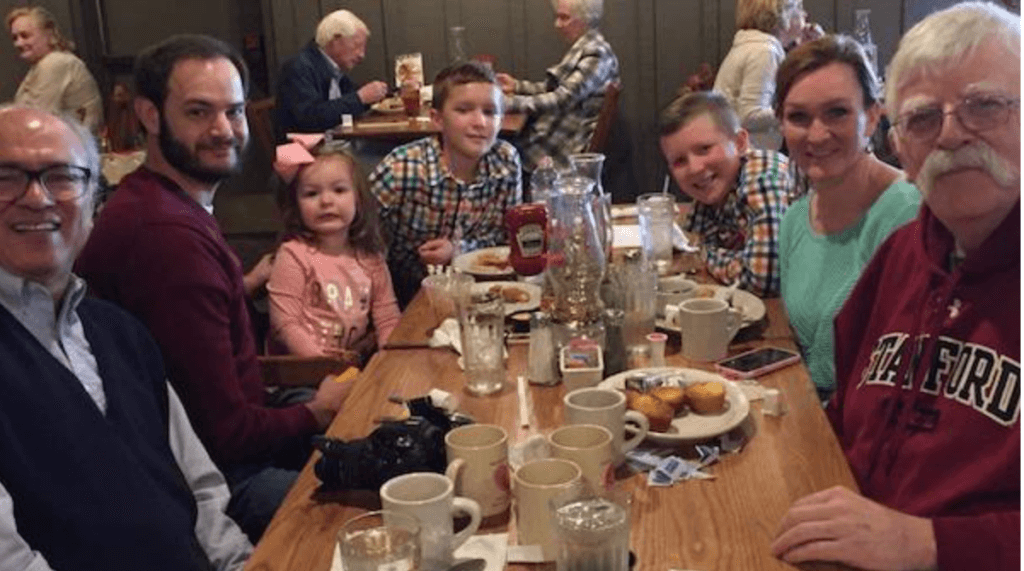 The 
PRP Survival Guide
 is a repository of experiences and insights shared by PRP patients and their caregivers. Collectively, the PRP community possesses a wealth of practical knowledge about pityriasis rubra pilaris. We need to harvest that knowledge for those in need of enlightenment.
For those who have participated in  face-to-face PRP Meet & Greets, please share your experience AND PHOTOS IF YOU HAVE ANY.
PRP Community Newsletter, published April 1, 2015
On Sunday, January 19, 2014, Lindsay Sprick and Virginia "Ginny" Maxwell met for brunch at the 116 Expresso Wine Bar in Columbia, South Carolina. A month later the duo met on Friday, February 21 and shared lunch at the Blue Fin, another restaurant in Columbia. At both gatherings, Ginny's husband, Jeffrey and their one-year-old daughter, Lauren, tagged along. To the waitress and fellow diners, the table of four wasn't out of the ordinary. Just a family or friends enjoying a meal together. Hold on there. While the odds of having PRP are one in 400,000, the odds of having a juvenile type of PRP range from one in 1.6 million to one in 8 million. What are the odds of Lindsay and Ginny being the first "official" Meet & Greet in almost two decades? And daughter Lauren in tow. It was a sure thing! It happened.
How was the first Meet & Greet arranged?
Ginny: Bill McCue sent us an email without disclosing either our names or email addresses. He asked us if we wanted to meet a fellow PRPer nearby. We both said, "Yes." The next thing I knew I got a call from Lindsay.
Lindsay: It was far too simple. The hardest part was just making the phone call to reach out to Ginny. I had all of these emotions swimming around in my head. I really wanted to meet her, but I was also wondering if we would relate. Were her problems like my problems?
Besides PRP, what did you talk about?
Lindsay: We spoke for over two hours about friends and family. We shared stories. We felt like long-lost sisters and talked about everything you'd expect sisters to talk about!
Ginny: She told me about NoDa Brewing Company where she works in marketing. Her Hopness, an official title, turns 25 in May. And she loves cigars and watching Netflix on the couch!
Have you ever met a PRP patient "in the flesh"? 
Lindsay: I'll be 25 in May and have never met another PRP patient prior to meeting Ginny.
Ginny: I was on a roll. A few weeks earlier I had helped a PRP patient from rural South Carolina get to an Emergency Room for help in Columbia. Lindsay makes my second!
What has Meet & Greet meant to you?
Lindsay: It's been an experience I can't unravel from my life now. I feel so lucky that we finally got to meet. To think we've been living an hour and a half from each other all this time was unbelievably mind blowing.
Ginny: I made a life-long friend. We're definitely planning on seeing each other again! It's hard to stop once you meet someone who has been through similar trials and tribulations. It makes you stronger in the long run.
Who made the first call?
Lindsay: That would be me. The second Ginny answered the phone and found out who I was, it was immediately clear to me that she was just as excited as I was. We talked on the phone for about 20 minutes and I couldn't wait to meet her.
Any regrets about sharing with a stranger?
Lindsay: Responding to the Meet & Greet invitation was absolutely one of the best decisions I've made in a long time. It was like meeting a long-lost sister.
Ginny: It is crazy I swear she is my cousin or something! Even Lauren bear-hugged her!
What did you learn about yourself?
Lindsay: I wasn't alone out there. We both face hardships and challenges. Now, though, we wouldn't have to be alone. We could talk about it together.
Ginny: You can't have too many PRP friends. We are all different and bring our own version of PRP with us. Only a fellow PRP knows what it means to have PRP. Our families love us. PRP patients are us.
What happened after your Meet & Greet?
Lindsay: Leaving that first meeting, I was just so jazzed up about the whole situation. It was crazy. We both couldn't wait to meet again. Now we talk, text and Facebook each other constantly!
Ginny: I remember thinking that I need to bring my twin boys, Nathan and Joey to a Meet & Greet. They are going to love Lindsay!
Should PRP patients and their caregivers Meet & Greet?
Lindsay: I would highly suggest reaching out to another PRP patient. It was great to finally get rid of that isolated feeling PRP gives you.
Ginny: I can't speak for others, but I already asked Bill to send a Meet & Greet invitation in Nashville where I visit family. Might as well include my growing PRP family too.