---
From the Editor…
Beiersdorf, makers of Aquaphor®,  continue to offer a program for families in the United States and Canada who use large amounts of this product.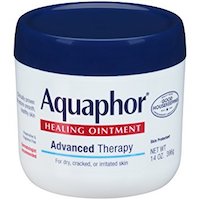 ORIGINAL USA PROGRAM
The company will send a free case of the product, as long as specific instructions are followed.
The member/patient must first contact customer service at: (800) 227-4703 to establish an account with Aquaphor, prior to the physician faxing a formal request.
Once an account is established, a letter from youer dermatologist (on doctor's letterhead), with patient/member contact information, confirmation of a PRP diagnosis, the exact name of the product (Eucerin or Aquaphor), frequency and your dermatologist's MPI number must be emailed to: consumerrelations@bdfusa.com.
Finally, the request must be renewed every three months.
PRP COMMUNITY IN CANADA
Great News For Canadians! The following information was uncovered by Murray Rose, liaison, PRP Canada. The following was provided by Connie Messina – Medical Donation Program, Beiersdorf Canada. She writes:
"…Beiersdorf Canada Inc. now offers a medical donation program for qualifying patients to obtain a complimentary case of Aquaphor Original Formula (12x396g) on a bi-annual (2 x year) basis. Please note this program is subject to change at any time.
To enroll in the program, Beiersdorf Canada requires the requestor's physician to provide on her/his letterhead, the following information:
1.   Patient's name, date of birth, address, phone number
2.  Confirmation of the medical condition for which Aquaphor is being used as an adjunct therapy
3. Physician's ID number
The above information can be emailed to Connie Messina at connie.messina@beiersdorf.com or mailed to:
Beiersdorf Canada Attention: Connie Messina – Medical Donation Program 2344 boul. Alfred Nobel, Suite 100A Montreal, QC H4S 0A4
IMPORTANT: Beiersdorf Canada also asks that you, the patient/recipient email them directly at connie.messina@beiersdorf.com to request a shipment. Please note that the shipment can take 1-4 weeks for delivery. Two other caveats:
(a)  The recipient is also responsible to request additional Aquaphor product if needed after 6 months, "
as it will not be sent automatically."
(b)  Beiersdorf requires a new Doctor's note if it is dated more than 12 
months from the original request date.
---
ABOUT BEIERSDORF Founded in 1973, Beiersdorf Inc. is one of more than 150 international affiliates of the cosmetics company Beiersdorf AG which is based in Hamburg, Germany. In addition to Aquaphor, they market Eucerin and NIVEA brand products.scanned and sent