Editor's Note…
If this is your FIRST visit to the PRP Survival Guide, please read How to Use the PRP Survival Guide before linking to any of the four chapters listed below. Each page has a TRANSLATE button to facilitate translation of text into one of over 100 languages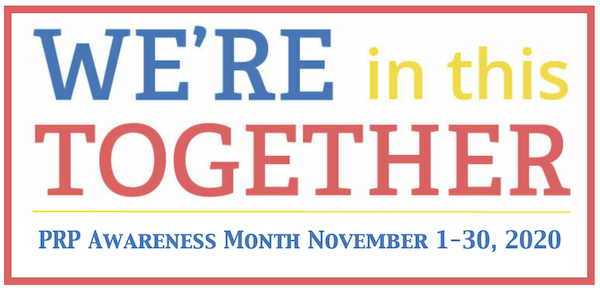 Every November, since November 2013, I have tried to find some way to build awareness of PRP within the PRP global community and among healthcare professionals. This year, after a four-month reorganization of the PRP Survival Guide, my primary goal is to ADD more insights and observations from PRP patients and their caregivers.
---
We begin PRP 101 with the basics. Whether you are a newly diagnosed patient or supportive caregiver (spouse, partner, parent, family or friend), or a more "seasoned traveler",  the questions we hear most often fall conveniently into two categories:
✽   Questions with answers you WANT to know
✽   Questions with answers you NEED to know       
Treating PRP focuses on treatment options (prescription drugs and topicals) as well as managing our expectations. We all learn early in our PRP journeys that the efficacy of treatment is a roll of the dice. We also learn that not all dermatologists are created equal. Not all dermatologists are PRP savvy. We want patients and caregivers to have a basic understanding of the options and confident in your ability to ask your dermatologist important questions.
Every aspect of the PRP experience … coping with the 24/7 challenges to body, mind and spirit. Feedback by hundreds of fellow travelers who have shared their insights based on their unique journeys with posts and comments from members of the PRP Facebook Support Group.                
For most PRP patients and caregivers, the outcome we seek is remission. The definition of remission can include "symptom-free with meds", "remission with remnants", and the least technical variation: "I finally have my life back". For others, the PRP journey is defined by long-term management of symptoms rather than remission.
Compared to other more common skin disorders, PRP has very little research in the pipeline. PRP-specified research projects over the past eight years can be counted on one hand, e.g., Thomas Jefferson University (2), Oregon Health and Science University (2), UCLA, USC and Kaiser Permante (1),  Mayo Clinic (1) and Brigham Research Institute (1). It's time for the PRP global community to get proactive about research.
---
DISCLAIMER The PRP Survival Guide is designed for educational purposes only and not for the purpose of rendering medical advice. It is not the intention of the PRP Survival Guide to provide specific medical advice, but rather to provide users with information to better understand and manage the burden of pityriasis rubra pilaris on body, mind and spirit. No individual should indulge in self-diagnosis or embark upon any course of medical treatment that is described in the PRP Survival Guide without first consulting a health care professional.
---
Copyright © 2013-2020, PRP Alliance and PRP Survival Guide,