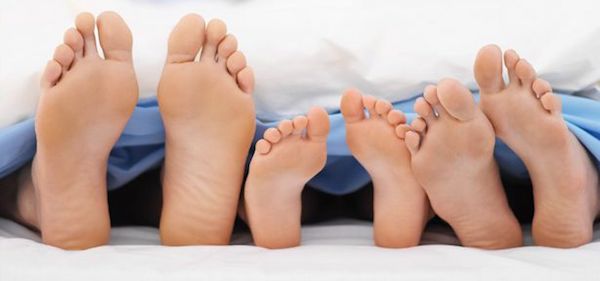 From the Editor
The PRP Survival Guide is designed to be a repository of experiences and insights shared by PRP patients and their caregivers. Collectively, the PRP community possesses a wealth of practical knowledge about pityriasis rubra pilaris. Only we can harvest that knowledge.
Please share what you have learned about PRP and Skin Removal Strategies as a patient or caregiver. Share what you have been told by your dermatologist? Share articles you feel might be worth reading or websites worth visiting. And please use "Leave a Reply" at the end of this webpage to share. Removing skin from the soles of our feet can be a challenge when the soles of our feet are encased in thick skin, fissures and bleeding. Hyperkeratosis is a thickening of the outer layer of the skin. This outer layer contains a tough, protective protein called keratin. Some of us can peel our soles like a mandarin orange. Others must find alternatives depending on the thickness of the skin. The following is a conversation started by Ginny M (Lexington, South Carolina) to the PRP Facebook community in August 2015.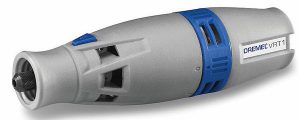 "I can't live without my Dremel tool. I didn't have much time today, but this is a quick way to remove the dry skin from your feet. ✻  You can't work in one spot too long. ✻  If your feet are inflamed it may not be the best time to try the Dremel. I shower after I finish and apply Vaseline or coconut oil. The dryness won't be noticeable. I will wear sandals for the rest of the day.
The build up on my feet takes about a month. I don't take the time I need to for myself I would do it every week and they would not be noticeable. A cuticle cutter works great for trimming around the cracks. If you can get the thick skin cut away from the cracks they will heal pretty quickly.
Editor's Note: Ginny uses the Dremel Grinding Stone #9175 (3/8″ diameter) and a smaller one There is a smaller one Ginny uses for under neath the toe nail.

One grinding stone costs about $2,50.  

I'd like to say that "it goes without saying", but I can't.

Please BE CAREFUL. I have a Dremel I use for projects involving wood. When I make a mistake with wood, it

 doesn't hurt. Moreover, I can fix my "oops" with a little plastic wood.  

Not so when it's your foot.

Please use an appropriate (slower) speeds. Take your time.

I am highlighting this Editor;'s Note in boldface red because it's important.
---
CHEESE GRATER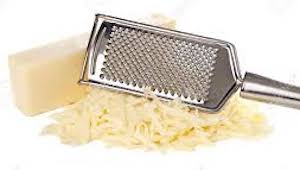 Jan T (Ringwood, New Jersey) I used a "cheese grater" style device to get rid of some of the excess thick skin on my feet after softening them in the bath with Epsom salts. It made a very satisfying pile of flakes on the floor but off my heels and toes.
---
Amope Pedi Perfect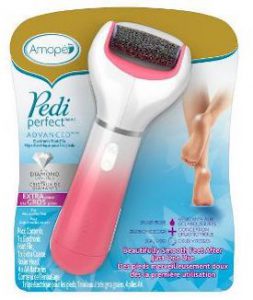 Karen B (Rochester, New York While Karen's podiatrist  has used a Dremel tool on her feet before, she has tried the  AMOPE by Pedi Perfect  and reports that she not only thinks it helps, but  she may like the Amope better and recommends that other PRP patients try it. Editor's Note:  According to the manufacturer the Amope Extra Coarse Electronic Foot File product is "gentle on your feet and easy to use.  It buffs away hard skin in minutes. It is cordless and powered by four AA Batteries (included). Diane A (Montreal, Quebec, Canada reports that the Amope Pedi Perfect helps too but uses a lot of batteries.
---

---
Karen B — Rochester, New York
I just tried the AMOPE, by Pedi Perfect this morning seems to help , my foot Doctor has used the Dremel tool on me before , I think I may like the Amope better you should try it kind of the same thing. My calluses are much thinner
---
Ginny M — Lexington, South Carolina
I just bought one from Amazon. I will let my son Joey try it . I have been scared to give him the power of the dremel! Nathan peels his feet by hand and his never seem to look like mine. Joey, the 10 year old, used it on his feet and hands. He was so excited! He even went over his cracks and said it didn't hurt but felt so much better once the thickness was gone. Our back deck looked like it was snowing.
I've been using a dremel for the last couple of years. I typically use it after a shower. The amount of skin dust is amazing, and my feet feel better for the next week or so. I found this to be a much safer way to remove the thick layer of dead skin as opposed to any other method. After the sanding, I return to the shower to wash off the dust and then I use Aquipour, or similar grease, to coat the bottom of my feet before I put on my cotton socks and breathable sunning shoes. Oh, I also use the tool to sand down my toe nails if they start getting too thick.
---
Jessica N— Rochester, New York
I cannot believe I've never thought of using a dremel on my feet. I use one on the dogs at work every day and I've even had pedicures its never crossed my mind lol
---
Susanne A — Melbourne, Victoria, Australia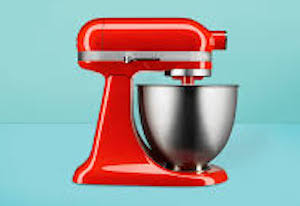 Please use or try.  It's fantastic. 1/4 cup of Listerine mouth wash,  1/4 cup of white vinegar, and 1/4 bicarbonate soda. It will eat your skin in a instant. Put cream on it. After only once or twice a week it's great!
I'm a beauty therapist myself and recommended this to my clients that have trouble with thickened skin. It works. And yes I have tried it also I do it on my daughters feet who has PRP and then, in summer I tend to wrap her feet in Glad wrap just for five minutes with the cream after the treatment. It's  great.
Editor's Note: Suzanne doesn't use a Kitchen Aid mixer,  I just wanted you to look. Emmy

P (Heerhugowaard, Nederlands) commented: "I use always soda but I will try with white vinegar and Listerine".
---
Elaine L — Torquay, England
I use a Scholl Express Pedi but think I'll give it a go with a Dremel
---
Sarah R— Skipton, North Yorkshire, England
When my feet looked like that the dermatologist gave me
hydromol intensive cream
which worked brilliantly. It is a deep moisturer and has urea in it to thin out the thick skin. My feet are now normal.
---
Peggy W— Hermitage, Tennessee
I found that the grater style exfoliators thickened my skin whereas pumice style used gently and daily thinned the skin. Heel crack self-sticking silicone pads stopped the pain immediately and allowed for very fast healing of fissures, but were expensive and not very sticky, especially when applied on oiled skin.
---
Murray R — Surrey, British Columbia, Canada
Being that wood working is one of my hobbies, I have a Dremel with about 100 accessories. I use it a lot. One month when my foot care nurse came for her normal visit I mentioned that I had used a Dremel since the last time she visited. She wanted to see the bit I was using so out to my shop I went and brought back the Dremel. "You did blow out all the sawdust , didn't you? " I had to tell her a little white lie. I mean there isn't much difference between wood dust and skin dust is there?
---