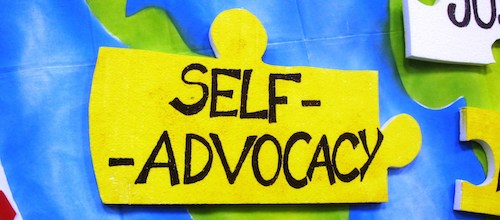 ---
Editor's Note — The Aplastic Anemia & MDS International Foundation developed a self-advocacy brochure that is worthy of note. It is unlikely, however, that rank and file PRP patients and caregivers will go cover-to-cover and digest every golden nugget of wisdom. With that in mind, the following represents an effort to customize their general information for the PRP global community. Our objective is quite simple; we advocate self-advocacy.
Please use "Leave a Reply at the end of this webpage to ask questions about PRP self-advocacy or to share your personal PRP self-advocacy experiences…good or bad.
---

Don't Do PRP Alone!
Having a rare disease like pityriasis rubra pilaris can be a heavy burden. But you don't have to carry it alone. There are people in your life—and people you have yet to meet—who would be glad to help you cope with the physical and emotional demands of PRP. With their support, you can become a strong self-advocate.
Get Support from Family and Friends
Family and friends can be a tremendous source of strength. They can help you with daily tasks and give you emotional support. It can be hard to accept the fact that you need support — but it is important for your health. Try these tips:
Make a list of tasks
Keep a list of tasks you could use help with. For instance, you might ask family and friends to:
✻   Research your disease and treatment options
✻   Talk with you or listen while you talk
✻   Organize your medical information
✻   Go to healthcare provider and hospital visits with you
✻   Look after your children and pets
✻   Cook, clean, and shop for you
✻   Give you rides
Ask for help
Family and friends often want to support you, yet they may not know how. Feel free to tell them what you need. Given them the link to this webpage.
Keep them in the loop
Family and friends want to know how you're doing. But answering their questions can be tiring. Think about asking one family member or friend to give updates on your behalf.
Know your limits
Having PRP takes a lot out of you. Know your limits, and feel free to say "no" to outings and activities planned by family and friends.
Get Support from a Health Advocate
A health advocate is a family member or friend who can help you advocate for your best care. This person can:
✻   Go with you to your dermatology clinic visits, ask questions, and write down information.
✻   Join the PRP Facebook Support Group as your surrogate. Not everyone is either computer-savvy or comfortable with social media.
✻   You may also want your health advocate to speak up for you when needed.
Ask a Family Member or Friend To Be Your Health Advocate
A friend or family member may be able to serve as a patient advocate. You may want to ask a few people to share that role. Each person can take on different tasks. One person may be better able to assist you with a doctor's visit, while another might be able to assist you with insurance issues.
Why Should You Use a Health Advocate?
According to Carolyn M. Clancy, MD Former Director of the U.S. Health and Human Services Agency for Healthcare Research and Quality, "Research shows that quality healthcare means taking an active role in decisions about your care. If you're facing a difficult medical decision, it's a good idea to bring someone with you who can help you take an active role in your care when you're not fully up to it."
"As a doctor and a patient," she continues, "I've seen how valuable it is to have 'another set of ears and eyes' in the exam room. Having an advocate at medical appointments or during a hospital stay can ensure that you get the information you need to manage your health.
✻  Ask questions or voice concerns to your dermatologist for you.
✻  Ask the "what's next" questions, such as: "If this test is negative, what does it mean? If it's positive, will more tests be needed?"
✻  Compile or update your medicine list.
✻  File paperwork or assist with insurance matters.
✻  Help arrange rides.
✻  Help you follow treatment instructions, including asking questions about your follow-up care.
✻  Remember your medicine schedule.
✻  Research treatment options, procedures, hospitals, and PRP-savvy dermatologists.

Get Support From Other Patients
More than anyone else, people living with PRP know exactly what you're going through. They can let you know you're not alone. If you are not already a member of the PRP Facebook Support Group (2,100-plus members), please
CLICK HERE
.Once you have joined, participate. Ask questions and comment on the questions other PRP patients ask.
Get Support From Non-Profit and Patient Advocacy Organizations
The PRP global community has additional resources to support patients diagnosed with PRP.
✻  PRP Survival Guide
✻  PRP Alliance, Inc.
Standing up for your health is a process. It's something that happens over time, as you learn more about your disease and gain confidence. Refer to this patient guide when you want to remind yourself of the core skills needed to become an empowered patient. We hope it will help you take steps to become a stronger self-advocate.
SUMMARY
Self-advocacy is a process. It's something that happens over time, as you learn more about PRP and gain confidence.
For many of us, asking for help is not easy. Yet, empowered PRP patients know that help from others can help them get the healthcare services and treatment they need. Some of us have family members or close friends who live nearby and are willing and able to serve as part of our support team. And some of us found that joining the PRP Facebook community offers the level of support we need.
Having a chronic and rare disease like PRP can be very difficult. Knowing that someone is in your corner can help you get through the ups and downs.
---