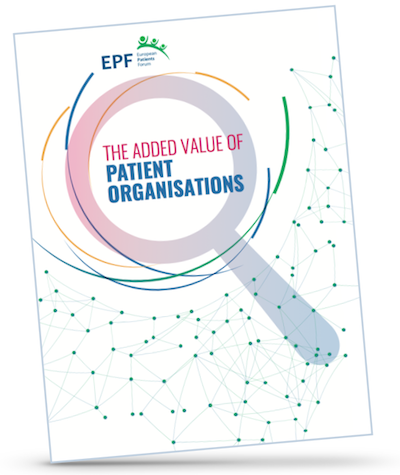 Executive Summary Introduction
The European Patients Forum (EPF) commissioned this report to give an overview of the role of patient organisations in Europe, to highlight their value as legitimate stakeholders in civil dialogue in health-related policies and to draw attention to the challenges patient organisations are facing. The objective of The Added Value of Patient Organisations is to emphasise the contribution of patient organisations in representing and voicing the situation of a speci c population that would otherwise not be represented. The main activities of patient organisations are set out in four different areas: policy, capacity- building and education, peer support and research and development (both health and pharmaceutical).
Policy
Patient organisations are invaluable partners in the policy process, providing input through stakeholder advisory groups, expert panels, European and/or national government public consultations or institutional meetings. Patient organisations are able to help policy-makers understand the experience of living with a disease or a condition. They use this "end-user perspective" to promote the interests of patients at all stages of policy development and in a range of institutional settings. Their contributions are valuable from the cross-sectoral approach of Health in all Policies (HiAP) to health and other essential services design. Through representation, mobilisation and empowerment, patient groups combine individual and social actions to gain political commitment and public support for speci c patient and general population health issues. They are experts in channeling the voice of patients by representing patients' interests in a united, coherent and consistent way which enhances the overall balance and nuance in policy- making.
Capacity Building and Education
Patient organisations work to strengthen the organisational and governance structures of their constituencies with the aim of helping patient groups become more resilient, sustainable and effective. Patient organisations also invest in capacity-building for policy-makers, industry, academia and the media. They undertake educational initiatives to disseminate information from end- users to policy-makers and authorities and vice-versa, as well as between different stakeholders. They work to promote health literacy to help patients make sound health care decisions for themselves. They produce and review health-related information with the aim of making sure that information provided to patients is of high quality and accessible.
Peer Support
Patient organisations provide peer mentoring, counseling or listening services, and legal and financial support. In their role as peer supporters they co-deliver self-management education and deliver various forms of support into the wider patient community.
Research and Development: Health and Pharmaceuticals
Patient organisations are increasingly active research collaborators, including through setting of research priorities and data collection. They are avid advocates for greater involvement of patients in the early stages of pharmaceutical research and development, as well as Health Technology Assessment (HTA), and argue for a similar approach in research and the development of disruptive innovation. They help patients navigate the complexities of the regulatory process for medicines and raise awareness about this with the pharmaceutical industry.
Challenges
Patient organisations face many challenges when performing these activities. The lack of resources and funding is an ongoing problem in all areas of their work. There is also an overarching issue of credibility impacted by the professionalisation of the sector that can disconnect it from its base and threaten its representativeness. Furthermore, there is a systemic failure of cooperation and a culture and tradition of tokenism when it comes to working with patient organisations. A regulated and coherent legislative space that would ensure a right of access to independent, timely and adequate resources is also missing on the European level. This means that the contribution of patient organisations to health (and society) in Europe is potentially greater than it is today.
Key messages
Patient organisations need to keep their eyes on the future by focusing on their core principles: those of representing, mobilising and empowering patients and advocating for their rights. They could consider ways to educate external stakeholders about what they do, the signi cance of the added value that they bring, and why and how they work with industry partners. They can use the revolution in communications, technology, innovation, research and development to advance their connectivity, engagement and resilience in a changing world. But patient organisations cannot face these challenges alone: other actors have an important role to play as well. The following recommendations can be taken into account by other stakeholders.
CONTENTS
What is a patient organisation?
Values and activities of patient organisations
Challenges for patient organisations
Conclusions and key messages