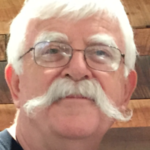 Author's Note: It was November 2013. I was 16 months into my PRP journey and five months from reaching remission. Since there is no universally accepted definition of remission within the PRP community, I applied my own: med-free and symptom-free.
I shared the poem with about 500 PRP patients and caregivers whose email addresses were in the PRP Community Database.
Five years later the PRP Community Database includes 764 patients and caregivers who are celebratingThanksgiving in the US, 563 who live beyond our borders, and another 417 who have yet to share where they call home. There is much for which we can be thankful. Let's start with the fact that we don't have to be alone on our PRP  journey.
CLICK HERE to learn more about pityriasis rubra pilaris and the resources available to PRP patients and caregivers.

I saw a spot, just a little dime,
I thought would vanish in a little time.
But the spot got bigger, instead of less;
The red got redder to my distress.
By the time I saw a medical pro,
The spot had continued to grow and grow.
It was now a bar running down my face,
And heading elsewhere at too fast a pace.
"Don't be alarmed," my doctor said,
"I'll give you meds to vanquish the red."
So I took her meds and to my dismay,
The red got redder with each passing day.
My eyes were all crusty and blurry at times;
My skin was awash with a thousand red dimes,
Small like the first one, but as time surely passed,
They blended together in one solid red mass.
By the end of six weeks I was totally red,
And to make matters worse, I started to shed.
No matter where I decided to go,
I always left a little skin snow.
I wished I was small and not six-foot three,
Weighing two-forty-five…there's plenty of me.
So shedding is quite an embarrassing hell,
'Cuz there's a lot of glitter on this big Tinker Bell.
Months had gone by and I was in a bad way,
Nothing was working, I was itchy all day.
My get up and go had got up and went;
It hurt when I walked and it hurt when I bent.
The dosage of meds had reached such a height,
That hallucinations appeared in the still of the night:
A humongous duck and tropical fish.
An hour of that prompted one wish…
The emergency room wasn't ready for me,
For no one knew anything about PRP.
In fact, I was there for nearly a week,
And the word "PRP" no doctor would speak.
When I was discharged a new doctor I found,
He was mostly a doctor, with a little bloodhound.
A piece of my skin he sent to a lab,
That confirmed PRP was the problem I had.
On Thanksgiving Day, six years ago,
There were so many answers I wanted to know.
Questions to ask and fears to allay.
And somehow manage to fight one more day.
As I look back on the previous years,
I remember the pain and remember the fears.
But how great are the stories that all of us tell,
Of how we survived our own version of hell.
So, whether your "active" and fighting the fight,
On the "Road to Remission" with some end in sight,
Or in full "Remission" and just looking back;
We all are together — we're on the same track.
My road to remission was remarkably fast,
My meds and my ointments are all in my past.
But I know there's a chance that it may return,
With skin that will flake and skin that will burn.
Some reach remission and bid an "Adieu",
Other's will ask, "What more can I do?"
To the latter who stay to reach out and care.
It's far better for all that you counsel and share.
But I'm better off now than six years ago;
I've been down that road, I know where to go.
To the people I've met, who have journeyed with me,
"I was never alone, for we journeyed as 'We'."
Copyright © 2014-2018 by Bill McCue (papa.bill@mac.com)