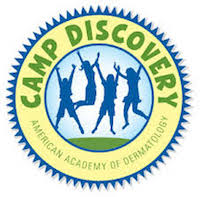 From the Editor…
For any PRP parent with a PRP kid in need of a summer experience in a PRP-friendly environment, consider Camp Discovery.
What they say about themselves:
Camp Discovery was founded in 1993 and offers a summer camp experience like no other. Every summer, the American Academy of Dermatology sponsors six weeks of camp in five locations where everyone can experience activities such as fishing, swimming, archery, horseback riding, nature trails, and just plain fun! Locations include:
✽  Crosslake, Minnesota
✽  Millville, PA
✽  Burton, TX
✽  Andover, CT
Under the expert care of dermatologists and nurses, Camp Discovery offers campers the opportunity to spend a week among other young people who have similar skin conditions. Many of the counselors have chronic skin conditions as well, and can provide support and advice to campers.
There is no fee for camp. All costs, including transportation, are provided by the American Academy of Dermatology through generous donations from its members, other organizations, and individuals. The American Academy of Dermatology is proud to offer this experience to about 380 children each year.
– See more at: https://www.aad.org/public/kids/camp-discovery/about#sthash.6UCUBmSu.dpuf
American Academy of Dermatology Summer Camp