---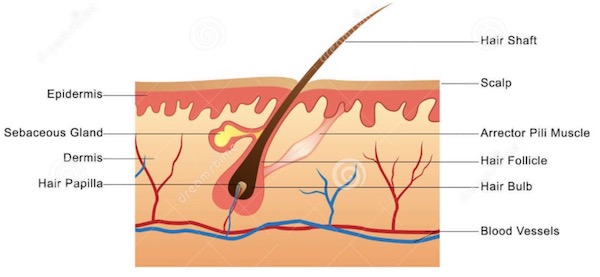 The PRP Survival Guide is designed to be a repository of experiences and insights shared by PRP patients and their caregivers. Collectively, the PRP community possesses a wealth of practical knowledge about pityriasis rubra pilaris. Only we are best positioned to harvest that knowledge. The primary topics of this section of Chapter 3 include:
Hair loss
Hair care
Wigs
Share what you have learned about hair loss. Share articles you feel might be worth reading or websites worth visiting. Neither the PRP Survival Guide nor the PRP Alliance endorses products by Brand Name, manuafacturer, or distributor.
---
Hair Loss
If you are a member of the PRP Facebook Support Group, CLICK HERE to access the unedited version.
---
Victoria C (Columbia, SC)
I'm curious if anyone who takes acitretin has had a problem with hair loss. I had quite a bit of hair fall out in the shower tonight and I'm a little concerned.
---
Tammie P (New York, NY)
I don't know about acetretin but I'm on methotrexate and here's how my morning shower went today. (displayed image of hair loss). I was alarmed. My dermatologist tells me the disease itself causes hair loss as does all the scratching. That's before we even get to the meds!
---
Gail C (Virginia Beach, VA)
Yes. It's a side effect
---
Donna C (Leesville, SC)
Yes, Victoria it does get thinner. Even the hair on my legs quit growing, and other areas too. It works by slowing down the reproduction of cells, skin, including hair folicals.
---
Gail C (Virginia Beach, VA)
I'd gladly give up the hair on my legs…but not my hair. This is just so sad and frustrating.
---
Donna C (Leesville, SC)
Know this, it will eventually grow back. It is not permanent. It just takes time and resilience.
---
April T (Terryville, CT)
Can you take biotin? It may help,
---
Ginny M (Lexington, SC)
Mine falls out from time to time. Have your hemoglobin checked. I am always anemic. BTW — I take 10k biotin. It helps with regrowth. It won't stop it from falling out. You have to uncover the source of what the cause is. I would start with finding out your iron levels.
---
Nicola G (Central Otago, New Zealand)
My iron is often low too.
---
Traci W (Seymour, IN)
Mine too. I usually hang around 10. I lost about half of the hair on my head and ALL of my body hair including lashes and brows. I don't know if it was the acitretin or the PRP. I still have minimal body hair and the hair on my head only grows a few inches and then breaks off, which makes me think it is the disease.Does the biotin cause facial hair growth? My daughter has biotin here that she takes because of her dialysis. I am just Leary of facial hair
---
Tamara S (Albuquerque, NM)
Yes! I definitely lost a lot of hair with acetretin. I had very little body hair while on it and lost a lot of hair on my head. I believe it was a side effect.
---
Dee W (Melbourne, Victoria, Australia)
My hubby doesn't have much on his head to start with but he has lost almost all body hair
---
Cami B (Pine City, MN)
Yep. I'm nearly bald. I wear a hat everywhere now
---
Abbie C (San Antonio, TX)
I took no meds at all and still lost all body hair including eyebrows and eyelashes. Hair got thin and white. All returned to normal as PRP resolved. Took about three to four years.
---
Kathy F (St. Anthony, ID)
I lost all body hair and on my head
---
Linda B (Oswestry, Shropshire, England,)
I made the decision to go meds free in terms of treatment for PRP, but my hair thinned considerably, particularly during the acute phase! I think it's a PRP thing, you shed skin and hair, sadly!
---
Karen B (North Wales, UK)
I lost all my body hair and facial hair, and lots off my head, but I thought it was due to the PRP rather than the acitrecin. It did eventually all come back. I still had significant hair loss when I moved on from acitretin to methotrexate. Once I started sweating again I saw my hair began to regrow( very very slowly!)
---
Cindy W (Watertown, NY)
One of the side effects of this medication is hair loss. I too lost all body hair and the hair on my head thinned drastically. When I complained to my doctor about my hair loss, he confirmed this is a side effect of this medication. I no longer take it. I never got my body hair back (which isn't such a bad thing) and my hair is growing back and started to get thicker. The texture is very different than before the hair loss.
---
Victoria C (Columbia, SC)
Thank y'all for the responses. Im at a loss for words at the moment for what's happening to me. I am, however, very thankful for the support and encouragement from those who have gone through this before me and who are going through this with me. It's scary. It would be terrifying if we were alone. Thank you.
---
Deidre H (Houlma, L)A
I've lost a lot of hair myself while on that medicine. I'm grateful that I had thick hair. But my scalp is covered with flakes and it's nasty
---
Suzanne D (Hubbard, NE)
I lost about 1/3 of my hair on methotrexate. It took awhile off the medicine but it finally all came back. Stelara is what finally worked for me.
---
Vivienne P (Northampton, England)
I have lost a lot of my hair and I am on acitretin. It is distressing, but the white stuff that comes out of my scalp is itchy and horrid. It is like a fibreglass crust with pva glue underneath! I use all the scalp applications and shampoos prescribed and they do help.
---
Lorna R  (Eugene, OR)
One of the side effects of PRP, is hair loss. Then add a retinoid medication, and compound the issue. It may be beneficial to go to a shorter hair style.
---
Petra M (Palm Bay, FL)
I lost all my hair! after stopping acitretin and PRP stoped (within9 months). i have my gull thick hair back!!!
buy a wig or cap.. i needed it for three months… Hope you are that lucky as well!
---