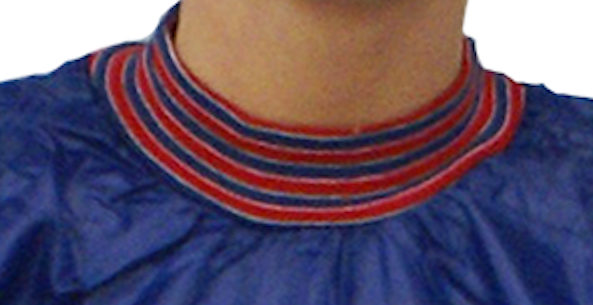 From the Editor
The PRP Survival Guide is designed to be a repository of experiences and insights shared by PRP patients and their caregivers. Collectively, the PRP community possesses a wealth of practical knowledge about pityriasis rubra pilaris. Only we are best positioned to harvest that knowledge.
Share what you have learned as a PRP patient or caregiver about PRP and clothing, e.g. sauna suits, shirts, and hats. Share what you have been told by your dermatologist? Share articles you feel might be worth reading or websites worth visiting. Here is the first question we ask about PRP and clothing?
---
Where can I find information on PRP-appropriate clothing?
Editor's Note: Neither the PRP Survival Guide nor the PRP Alliance  endorses BRAND NAME products.
---
Bill M (Plano, TX)
There are two websites worthy of note.
✽   Skinnies
 ✽  Delasco (Sleep Sauna Suits)
---
Deborah B (Kannapolis, NC)
Regarding UVB PROTECTED CLOTHING, "my shirts and hat are from Columbia Sportswear (brand). It kind of looked like Gillian's hat on Gilligan's Island!!! I do not apply sunscreen under the shirts, but each PRP patient is different. The shirts have a 'vent' in the back, but that did not keep me from overheating while wearing them! The material is very light, which I like, and slickery, which didn't absorb moisturizer.
---
Penny B (Basehor, KS)
http://www.UVSkinz.com carries a huge line of UV+50 Swimwear. It is great for those of us with PRP.
---
Cami B (Pine City, MN)
Anyone tried sauna suits? The dermatologist recommended it to me today and I picked a couple of them up. Not the greatest fashion statement, but it keeps the goo on your body instead of all over the jammies and bed sheets (or a lion's share of it anyway).
---
Lorna R (Eugene, OR)
I had two of these suits, 100% nylon, two-piece garment. Be sure you wear nothing under the suit, except if you have to, e.g., bra and panties. Then you wear your regular clothing over the top.
This garment was designed for the treatment of burn patients, e.g., to keep moisture and heat contained, and enhance the effects of any medicated ointments or creams. The suit is very durable. I still have mine, in a drawer.
Take your bath or shower, wash your skin well with a wash cloth. Towel dry, leaving your skin a little moist. Apply whatever medicated ointment or cream over your skin. If you are using body cream apply that very liberally. Put the sauna suit on, followed by the clothing you are going to wear for the day.
At bedtime, these work as your pajama's. I wore this garment for 3 solid years, 24 hours a day. Then I wore the garment as PJ's for a while after that. I believe in this garment, and I believe it is very effective for the treatment of our skin, containing heat and moisture, and enhancing the effectiveness of medicated creams or ointments and our body creams.
While not an endorsement, DELASCO LLC is a source for sauna suits and based in Council Bluffs, IA

---
Please share what you have learned about being a PRP-related  clothing, e.g., sauna suits, shorts, and hats. Send an email to editor@prpSurvivalGuide.org.